Members Offer Description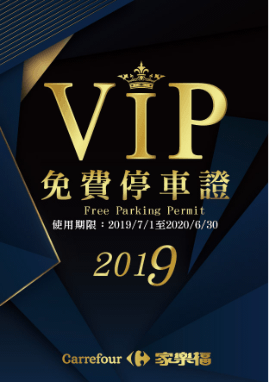 Privilege and Improved Quality
2019 VIP effective period:July 1, 2019 to June 30, 2020
2020 VIP qualification:
The accumulated purchase amount from June 1, 2019 to May 31, 2020 reaches up to a total of NT$ 100,000 (excluding Carrefour marketplace, gift card, gift certificate, virtual top up and block trade which defined by Carrefour.)
1 VIP card
1 VIP parking permit
Special Offers for VIP Members
---
Every dollar you expend can be accumulated for reward1.5 points
(1 dollar for 1 point for ordinary members)
Earn30 timesthe points on birthday
30 times the points to the maximum of 1,500,000 points are granted as a gift in your birthday month
Based on the highest paid-up amount in the same month.
*The 30 times include the original 1.5 points
*Points will be entered into your account automatically on the 15th day of the next month
Carrefour shopping center and food court to provide you with special offers
Buy at Carrefour and enjoy free
home delivery service
(詳情依各店現場實際狀況為主)
Free Parking for 2-6 hours at any purchase amount
※The Carrefour Tianmu branch only provides 2-hour free parking service due to limited parking space to protect the rights of consumers
E.Sun and Carrefour Joint VIP Card
---
(This card is under invitation may be opened for application in August every year. Please be patient and wait for our notice. Thank you! )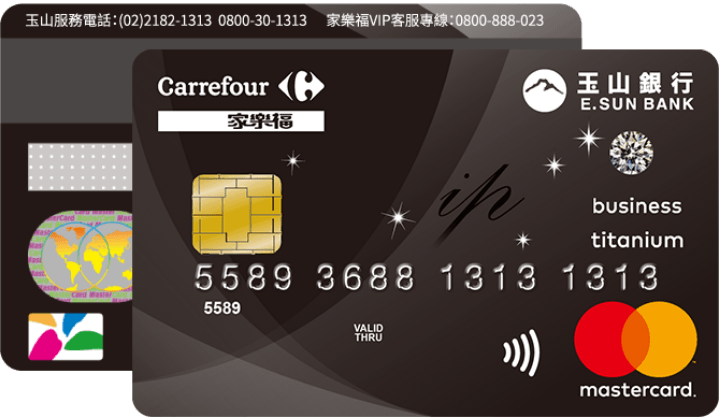 1dollar for3points
1dollar for1.5points
Consume for "Carrefour Reward Points" with Unlimited Bonus
---
Shopping in the store with your joint card: 1 dollar for 3 Carrefour reward points!
External shopping: 1 dollar for 1.5 Carrefour reward points to earn points easily! ※The E.Sun Bank and Carrefour Joint VIP Card is needed for these purchases. Refer to the announcement in the store for more information;
The number after the decimal point is not included in the calculation of points. The reward points provided by the E.SUN Bank are not included.
Points for cash to save more when you buy
Accumulated points can be used for discount from the next day when shopping in the store, you can have 300 points are redeemed for 1 dollar. There are also catalogs or in-store items for extra points and member prices.
0% installment interest only for members
Payment for shopping in any Carrefour store to a specified amount can be made in 3 to 12 installments with 0% interest; 24 or 30 installments with 0% interest are offered for specified goods.
※Carrefour reward points are provided for in-store shopping with installment payment
※Please refer to Carrefour stores for more information and matters needing attention
Easy Card shopping without the need for signature
More than 10,000 contracted stores accept Easy Card for small payment. No small money is needed and payment is made easily and quickly by inducting the card without the need of swiping or signing.
Prudent Financial Management Invaluable Credibility